Because we all see things a little differently, usually from our own vantage point, we need to adjust your reference points to our reference points before ordering skylights. Following this tutorial will put you on the same page with us and allow for clear communication when your ready to order skylights. Shortly, you too can be skylight proficient!
As a prerequisite to ordering skylights, it will be necessary to identify the following information in Steps 1, 2 and 3 below first. In doing so, much of the mystery regarding, product, measure, ordering, coordination with the manufacturer and installation can be solved allowing for a trouble free process. Please take a moment to review the following sections:
STEP 1 - Pick a Skylight Type
A: Dome Skylight - Fixed (or) Operable
B: Flat Skylight - Fixed (or) Operable
C: Pyramid Skylights
D: Round Skylights
E: Hip Ridge Skylights
F: Ridge Skylight - Glazed or Non-Glazed Ends
G: Polygon Skylight
H: Lean To Skylight - Glazed or Non Glazed Ends
I: Barrel Vault

STEP 2 - Glazing Types
What stuff do you want to look through?
Depending on where you live, where it's going and what you want to achieve will determine what is right for you. We'll try to outline some pertinent information to help you make the right decision.
ACRYLIC IS GOOD, LEXAN IS GOOD, GLASS IS GOOD?
The answer is, they are all good stuff depending on what look you want to achieve, how much you want to spend and if you have any local codes which may mandate what you use.
Acrylic is the most economical and most widely used synthetic glazing on the market. It is available in tints, is UV resistant and is extensively used in virtually all markets, both north and south, in single or double glazed applications.
Lexan, another synthetic glazing material by General Electric, offers similar characteristics as acrylics with one distinct added benefit, impact resistance against wind-borne debris. Lexan is used in Hurricane Markets.
Glass, laminated glass to be exact, is and has always been been utilized for overhead glazing. Although not available in domes, performance glass, monolithic and insulated, can be used with a variety of enhancements including Low E coatings, reflective coatings, a variety of tints and inert gas fillings. Versatile and durable, many applications may require a glass product which is also used in Hurricane Markets.
STEP 3 - Glazing Options
What stuff do you want to look through?
Remember, it doesn't matter if your North or South, two lites are better than one! Regardless if your heating or cooling, you'll use less energy with two because it will insulate more and conduct less unless these are going outside on a porch or overhang. Consider rain and hail as well! There will be less rat-a-tap-tap to the room below as well. Thus, the choices are as follows.
A. Single Glazing is available in Acrylic, Lexan and Laminated Glass.
B. Dual Glazing is available in Acrylic and Lexan with the added benefit of an insulating air space that is mechanically sealed. Thedual glazed lites allow for greater thermal efficiency and better sound reduction.
C. Insulated Glass is available for glass skylights only with the air space between the glass lites being hermetically sealed.
STEP 4 - Frame Types
How does this dag nab thing fit on the roof?
Now that you know what type of skylight you want, it is time to decide exactly what type of mounting frame you need (or what your roof will accommodate). Essentially, there are Two (2) types of frames to pick from (Self Curbing or Curb Mount) If your starting new with no holes in the roof already, you have your choice. In the case of replacement, Curb Mounts are easier as there is no tearing into the roofing. Self Curbing replacements, however, require a tear off down to the roof deck for removal and replacement.
A. Self Flashing or Self Curbing (same thing) units come with mounting flange that will attach directly to the roof deck. Standard heights for self flashing units typically are 4 with options for 5 , 6, 9 or 12, depending on the manufacturer, to accommodate differing roof tiles and conditions. Self Flashing units are generally more popular for new construction due to ease of installation. Insulated aluminum curbs are also available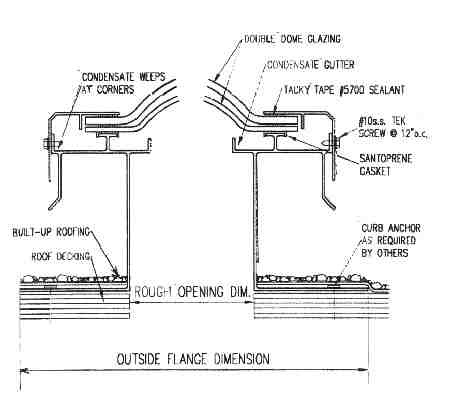 B. Curb Mounted Units come prepared to attach to an independent, built up roof curb. With this particular frame, there is no extended frame to lift the unit off of the roof deck. Typically, a roof curb of either wood, concrete or steel is constructed and anchored first atop the roof deck to a desired height. Roofing materials are then installed up to and over the top of the curb. A curb mounted skylight is then fastened to the curb (instead of the roof deck).
STEP 5 - Measure
What the heck am I measuring?
This is typically our number one question for you. Keep in mind that the measure is absolutely critical! It must be accurate and needs to be based upon typical industry reference points as provided below. Nothing can be more frustrating than receiving the wrong sized material. Although it is nothing to be afraid of, we would encourage you to familiarize yourself so as to avoid a potentially costly mistake.
A. Self Curbing/Self Flashing Styles typically work from the Rough Opening dimension. The Rough Opening dimension is equal to the size of the true opening or hole through the roof. If this is a replacement skylight, however, be careful. Often times from down below, there may very well be a drywall, sheet rock, wood or insulated liner concealing the true rough opening dimension! You may indeed have to do some exploratory surgery and/or take measurements from up top. If you do take measurements from top side, establish first that the unit you are measuring is in fact a self curbing unit and not a curb mounted style! If it is a curb mounted type, your measurements will be incorrect.
B.Curb Mounted frame sizing is taken from the Outside Curb Dimension. The Outside Curb Dimension is the overall OD (outside dimension) size of the of the finished built up curb. Importantly, this also includes the applied roofing materials as taken from the top of the curb where the skylight is to fit. Skylights are sized slightly larger than the OD of the curb in order to fit over the top, like a crown, and reference what is commonly referred to as the Inside Flange Dimension, also known as the Inside Aluminum Dimension or the Inside Unit Dimension. The important issue here is that you provide us with the proper OD of the curb. We can assist you with the rest!
Pricing Note: We ask that you call for pricing in order for us to get an accurate shipping quote

Keep in mind that there will be added savings if you order two or more skylights.